KFC Goldspice Chicken, Chocolate Hazelnut Egg Tart Review
KFC Goldspice Chicken – S$8.55 for set
Comes with Sjora, Mashed Potatoes and Coleslaw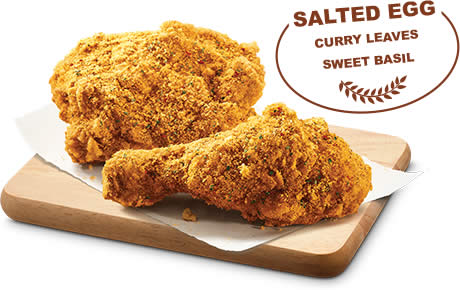 Looks wise, it is pretty similar to the advertisements.
Goldspice chicken is basically KFC crispy version sprinkled with a salted egg powder. It is surprisingly spicy, with a lingering heat that stayed within my mouth for the entire meal, though it is not enough to make a person sweat, or reach for the water.
The salted egg powder is only sprinkled on the top side. Bottom side of the chicken has no speckles of salted egg powder. Surprisingly sweet, rather than salty, and I also taste bits of curry leaf fragrance here and there. It doesn't actually have the quality of what I would think qualifies as a salted egg chicken.
Rating for Goldspice Chicken
I rate food based on how far I am willing to travel, as well as whether I think the price I paid for it justifies it. You can read more about why here.
Travel-meter:
Eh, I'll just laze around. Overall, the goldspice added a little oomph to the KFC Crispy recipe, but it isn't a strong innovation that I would come back for again. I wouldn't go the extra effort to eat this. I think Colonel Sanders still wouldn't approve of this, since he was pretty angry at the Crispy Chicken for corporate KFC.
Worth-it-meter:
At the price, I'm getting the right amounts of what I expect out of the food.
KFC Chocolate Hazelnut Egg Tart – S$1.50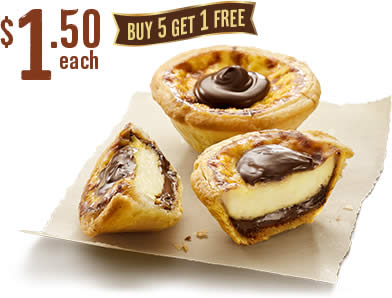 It doesn't look too pretty, and is a little stingy compared to the advertisement, but I can forgive them for this.
Taste wise, with the meager amount I definitely don't taste too much of the hazelnut filling as a whole. The chocolate hazelnut filling is less hazelnutty than I expected, though it provided a light gooey bitter-sweet, nutty touch to the custard paired with the crispy flaky crust. My personal preference is to eat a regular egg tart, as I feel that the chocolate, especially in this amounts, don't really add too much to the taste. However, I can understand if some might like it with a touch of chocolate or even requires even more chocolate. That said, I am a fan of KFC portugese egg tarts and make it a point to always order 1 whenever I enter a chain.
Rating for Chocolate Hazelnut Egg Tart
I rate food based on how far I am willing to travel, as well as whether I think the price I paid for it justifies it. You can read more about why here.
Travel-meter:
I might walk a bit more for it. I do like KFC egg tarts quite a lot. Although the chocolate filling isn't quite as decadent or generous as I would have liked, it is still an egg tart.
Worth-it-meter:
The egg tart is relatively expensive, though it is delicious, and I always find myself ordering egg tart variants again and again. I might be biased, but I rate them to be more worth it than average.
But I'm just a fat boi… What do other people think?
The Media
ChannelNewsAsia  seems to like the chicken, though the ratio of likes:dislike in this video makes me suspect if the opinion is biased (could be also because the video didn't actually review the egg tart and the hazelnut fries).
GoodyFeed likes them both a lot. Mentions that the salted egg comes as an aftertaste.
PrisChew liked the egg tart, but seem to think the Goldspice chicken doesn't really have much of the salted egg flavor.
LittleDayOut wished there were more salted egg flavor.
chin wei gave the chicken 10/10, though also would have liked more salted egg. After eating the chocolate hazelnut egg tart he declared this meal to be the best KFC meal he has ever had.
oo-foodielicious seems to be a different opinion, saying the salted egg components are on point, even though it is not very spicy.
The Community
Some reddit users in a thread seem to indicate that it's an "eh", unless you happen to get a batch that is freshly fried.